Bridget is currently available for 1:1 or 1:2 Pilates on Mondays and Thursdays in Bloomsbury.
History
Bridget's love of movement began as a child while watching her father teach and choreograph for Dublin City Ballet in Ireland. This led to training as a dancer in Stockholm, Sweden and then later in London at The West Street School and Rambert.
During training and while working as a dancer Bridgets interest in the workings of the body and injury prevention for herself and others grew and she decided to study Anatomy and Physiology, this led to a Qualification in Holistic and Therapeutic Massage in 1998.
Alongside various dance projects Bridget then started to lead Relaxation & Awareness Workshops often with people who had chronic pain and movement restrictions achieving remarkable results.
Pilates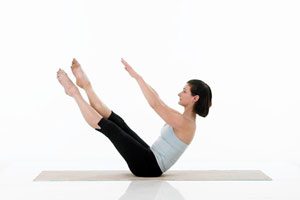 This brought Bridget to the world of Pilates in the year 2000, she started training with Body Control Pilates, qualified in matwork in 2001 and shortly after started to work at their flagship studio as an apprentice studio teacher.
During the years that followed Bridget developed a successful business teaching Matwork in South-East London, trained with Body Control in the studio equipment and was then taken on by them as a full-time studio teacher. In 2006 she was asked to join their Teacher Training Education Team.
Bridget is now a Master Studio Teacher and the Co-Ordinator for Body Controls Studio Equipment Courses.
Bodywork, Fascia and Movement
Over the last seven years Bridget has developed her knowledge of the body by studying Myofascial Release, Patterns of Dysfunction and The Therapeutic Relationship at The University of Westminster. She then took the Hellerwork Series with Carrie Tuke. This initiated more study with the pioneers of the fascial movement, leading to workshops with Robert Schleip, Sol Petersen and Tom Myers.
Exploration of other Movement Disciplines continued also during that time with the practice of QiGong with Master Teacher Roy Jenzen and various different styles of Yoga. Further training has recently included specialist courses in Pelvic Health and Healing for Diastisis Recti with Carolyne Anthony of The Center for Womens Fitness.
Bridget has now developed several workshops for Pilates & Movement professionals exploring the relationship between the fascial system in the body and movement.
To contact Bridget with any questions about our movement and Pilates training email here.